DAY 16
Yes, it's true, an actual day of doing some work on the Tardis (rain was forcast for 4pm so there's always something trying to stop me!).
Oh, OK, I say that, but there was actually a lot of thinking, as if you remember back to when I started, I actually have no plan of what I'm doing so winging it as I go.
Anyway, first things first, I thought about fixing in the corner poles today, but then remembered, I don't actually have any sort of a roof yet and didn't fancy trying to build that 8 foot in the air!
So, first job ended up being fixing down the floor
Then a bit of filling of the gap between the 2 floor pieces and also over all the screws.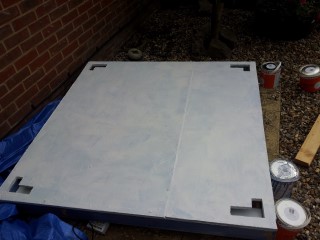 And this is now where the corners will fit into, with a supporting piece of wood under each (and below those a wheel).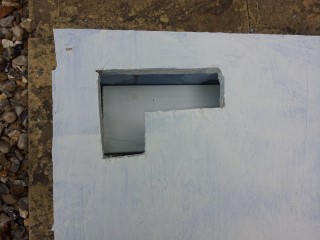 Oh and I had an idea for the floor, inside it will end up being painted black and then I can do some sort of perspective drawing to make it look like a walkway over something below. If it works great, if not it'll be a "transparent floor" looking into space onto the stars below.
But that's just one of those things where my mind goes off on a tangent and I lose concentration on what I'm supposed to be doing and come up with some totally ridiculous idea. But you never know...
So, once the floor was fixed, I thought the best way to build the roof would be by having it sit on the base as I create it, that way I know it'll be the right size to sit over the sides.
Is that the right thing to do? Well, I've hardly done anything in the right way so far, so I may as well carry on as I started!
My thinking (eventually) led to this..
Make the same shape as the very outside of the floor (using a couple of scraps to guide me)
So out with one of the 16 foot long 2x4 pieces of wood and the handsaw.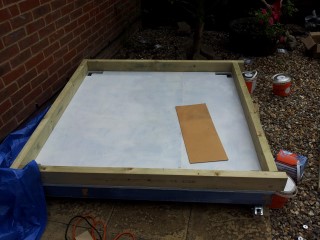 With a bit of adjusting (re-cutting!) I ended up with the full square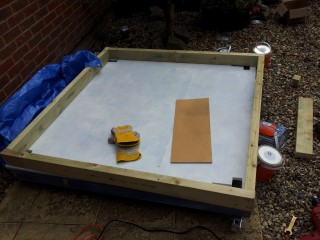 More thinking followed as to which way round to have the flat bit of the roof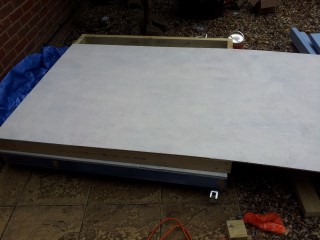 In the end deciding on one piece covering the majority and just a small bit towards the edge, so I fixed the big sheet and cut it while attached to the frame, so I could get right up to the edge.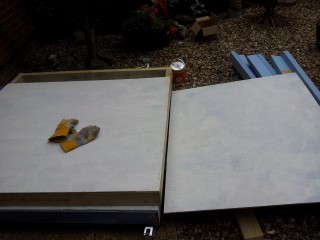 Now I did actually manage to get the smaller piece cut, but literally as it came apart the rain started (it was 15 mins early!), so I haven't got a photo of that yet, as it was a quick clear up, get everything covered before it got too heavy.
But that was the end for today, finally starting to see it taking shape (although it looks like some sort of pop up TARDIS at the moment with the tarp on!)
Off to a Doctor Who day in Norwich tomorrow, so I doubt I'll get anything done now until the bank holiday weekend, unless we suddenly hit a heatwave in the evenings!
And lastly, a word of advice, don't hold a piece of wood with your left hand and then cut across the wood with your right, as sooner or later it'll catch up with the arm!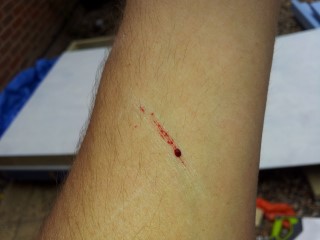 Just glad I was using a handsaw and not an electric one, but then I am a walking comedy of errors so that's why my job involves fixing computers from a keyboard and not using sharp objects! ha ha