DAY 28
Today's small bit of work saw me start covering the top bit of roof.
Seeing as I'm planning to fit some speakers and electrics in here somewhere, I thought I'd better have a go at water proofing it properly (not that I don't trust myself or anything!)
I've never used this stuff before, well, let's face it, I've never attempted anything like this whole project before, but anyway when I got the felt, I got a pot of adhesive, although on opening it up, it seems more like tar.
Unsure as ever to what I'm really doing and with instructions that just say "cover the surface, let it go sticky and then put the felt on", this sounded like my kind of work!
A coat of gloop (seems the best description) all over the roof as worst case I can just repaint the bits I need to cover on the sides after the main strip has set (assuming that's what it does!).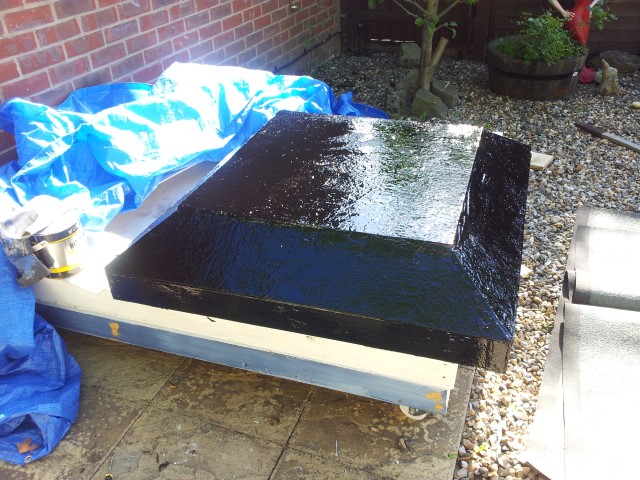 Next up, while that's sitting there, cut off a lump of felt. Twice.
First time I thought, measure the width, measure the height, add it together and then cut. Wrong!
I forgot it actually slopes, so the first piece wasn't long enough, but I didn't take any chances with the second.
It actually said to use a 15​KG roller to push it down, but where on earth do you buy one of those?
So a bit of time to improvise, trying various things laying around the garden (some of which were totally pointless when I now think about it, such as pushing it down with my hands while wearing rubber gloves!) ended with the back end of a broom to push it down.
Still needs a bit of a trim, but ran out of time for the day, so it's a case once again of...
to be continued....