YES! It's true, a real update. There really is a Day 29!
The sun was actually out today, no rain was forecast so it was time for an extended lunch and a bit of painting!
On looking in the shed, it seems I only have one big side left to undercoat then it's down to the smaller pieces.
So out it came and I'd forgotten how heavy 9mm wood is when it's 8'x4'in size!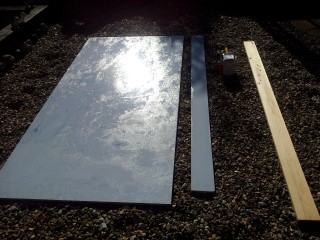 Biggest bit and a couple of the lengths I'll be using to frame the doors done, sun was still out so time for more
and more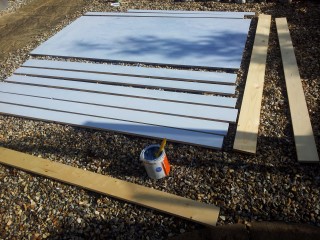 A bit more..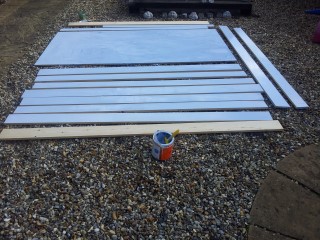 Even more....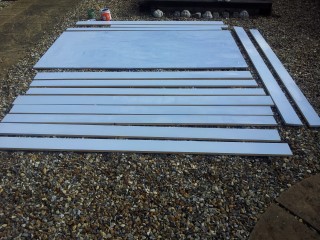 I'm on a roll so why not get some of the smaller bits done on one side while the others dry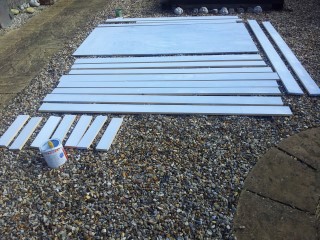 Still sunny but having to lay the bits all over the garden to get them painted!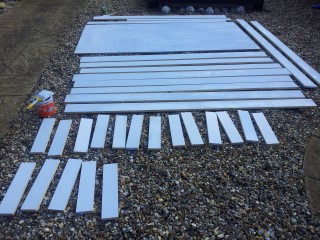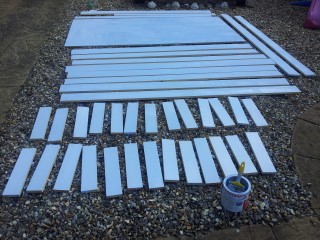 The biggest bits had dried and I had a lovely selection of blue stones around the garden now, so I thought I may as well do the second side.
As always, you start these things, the weather is supposedly going to be dry all day, but that's one serious black cloud suddenly appearing above me!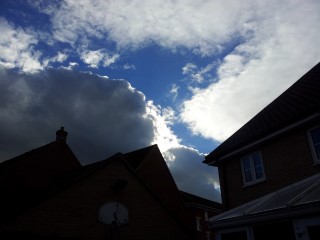 Still, on with the second side
Just enough time to finish the 2nd side of the big bits, then I needed to start clearing away the small ones.
It started to rain after about an hour in the end, so had to put the long bits away, still a bit tacky in places, but as this is just undercoat, not the end of the world if they stick to each other, as they'll get a proper paint another day.
Still need to do the edges, but it's supposed to be nice again this week so you never know.
So that was today for the Tardis build, the first time in months I'd actually got something done.
Mr Miyagi would be proud of all the up /down brush strokes today, next time I'll move onto waxing the car!
(one for those of you old enough to remember the 80s!)